About 10,000 years ago, the glaciers covered most of New England. As the glaciers slowly moved southward, they picked up large chunks of rock from the mountains and moved them many miles to the south. When the glaciers eventually melted and retreated, these large boulders were left behind. The larger examples of these boulders are called by geologists "glacial erratics".
The colonists who arrived in Massachusetts in the 1600's used these glacially deposited stones as an easy source of building materials for foundations, chimneys, and stone walls. The smaller stones were used as is, while the larger stone were split apart using several simple but rather crude quarrying techniques. William Bartram, the noted naturalist, was splitting boulders as early as 1730/21 in Pennsylvania. In the New England region, the first recorded use of quarried field boulders occurred with the construction of King's Chapel in Boston which was completed in 1754. The boulders for the chapel were first blasted and then the chunks were shaped into rectangular blocks using a method called "hammering."
The next reference to the splitting and blasting of boulders occurs in 1790. The New-England Farmer: or Georgical Dictionary published in 1790 offered the following advice to farmers, "Stones that are very large, and which cannot with ease be removed whole, may be blown to pieces with gunpowder." The book also suggested a second method of removing field boulders, ".. another method of breaking rocks, which ought to be generally known, and which sometimes turns out cheaper, is this: Drill two holes in a stone, ranging with the grain, when that can be discovered with the eye. Then filling each hole with two semi-cylindrical pieces of iron, drive a long steel wedge between them. The stone will thus split open. And commonly, very regular shaped pieces for building may be obtained." By the mid 1800's some farmers were supplementing their income by quarrying field boulders on their farms during the off seasons. The quarrying of boulders continue as late as the 1860's. There is currently no real evidence to suggest boulder quarrying occurred after 1870 or so.
Partially quarried boulders are a common occurrence with boulder quarries. Many times the reason for why it was abandoned is obvious. The boulder either split poorly or simply refused to be split at all. With boulders that failed to split, sometimes a set of plug and feathers is found still stuck fast in one of the unsplit holes. Generally speaking, boulder quarrying was unpredictable. In the 19th century, there was a shift toward surface ledge quarrying which proved much more reliable and efficient than boulder quarrying.
These boulders were simply split in half using the farmers version of the plug & feather method. The split halves were used for a chimney base in this circa 1790-1825 house foundation in South Hampton, NH.
This field boulder was being split into quarter sections using the commercial version of the plug & feather method.
(South Hampton, NH)
This large glacial erratic was being systematically splitting into rectangular bars by splitting the boulder in careful layers. This boulder reduction techniques first appears in the 1830's. (Roxbury, NH)
Ledge quarries are places were exposed bedrock, usually on hillsides, was quarried for usable bars of rock. The exposed bedrock many times had well defined fractures, both horizontal and vertical, that allowed for roughly rectangular blocks and slabs of stone to be split off. Generally, only the top few layers of the surface ledge was quarried. Surface ledge quarries were a major improvement over glacial boulders whose splitting properties were unpredictable. Ledge quarry generally supplied stone for local building projects like foundations, stone walls, and culverts. Railroads in particular, made extensive use of surface ledge quarries for building culverts, bridge abutments, and other railroad related structures. These quarries can be found for the most part within a 100 yards of old railroad beds.
The first documented surface ledge quarries date to the 1750s. The foundation of the Nathaniel Hempsted House (1759) in New London, CT was created by blasting away the surface ledge. The blasted rock was then hammer into small blocks and used to construct the house. Surface ledge quarrying prior to 1805 is extremely rare. Most surface ledge quarries used the commercial plug and feather method and date from the 1823-1870's time period.
This hillside surface ledge quarry is adjacent to the Boston & Maine Railroad line in Sandown, NH. It supplied large granite bars for railroad culverts. It dates from the mid 1800's.
This is one of several small surface ledge quarries in an old farm pasture in Sandown, NH.
Pit quarries are the deep modern quarries most people are familiar with. These deep pit quarries exploited the superior grades of stone found deeper in the bedrock. In fact, most of these pit quarries would blast away the top 20 or more feet of the top surface ledge due to its poor quality. Stone from these quarries was used for commercial and government buildings, public monuments, and other important stone edifices.
Deep pit quarries are a post 1825 phenomenon. They were made possible by major innovations in hoisting and transportation of large blocks of stone developed during the construction of the Bunker Hill Monument (1825) in Boston, MA. the stone for the monument was quarried in Quincy, MA. The key innovation to deep pit quarrying was the development of the quarry derrick.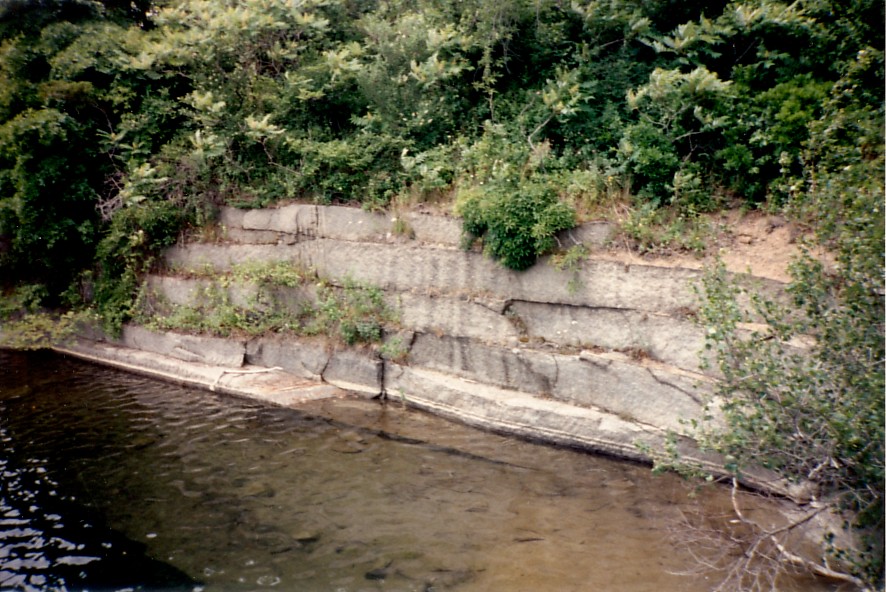 This photo shows the layered bedrock of a deep pit quarry. Water was a common problem with such quarries and required pumps to keep the quarry clear of water. This is Babson Quarry in Rockport, MA which is part of Halibut State Park. It is open to the public.
A circa 1910-1915 real photo postcard of one of the granite quarries in Quincy, Massachusetts.
The extraction of stone blocks through the use mining shafts and galleries is well documented in Great Britain. It was used to obtain blocks from a specific strata of rock which was deeply buried. In northeastern United States, this situation was quite rare. In almost all cases, the granite, marble, soapstone, brownstone, & slate could all be quarried through pit quarrying. In Rutland and Proctor Vermont high quality marble was found which sloped into the hillside at an angle. This required a combination deep pit / subterranean quarrying strategy. These quarries were unusual and attracted attention from tourists and photographers. Images of these quarries were sold as postcards, stereoview cards, and magic lantern slides. A sampling of these images dating from the 1900-1920 period are shown below.
This 1906 postcard shows three ladies and a gentleman (lower left corner) viewing this Marble Quarry near Rutland VT.
The sloping nature of marble quarry vein is noticeable in this view.
This stereoview card show several large mine like shafts extending horizontally into the rear wall of this quarry pit.
This stereoview card shows a quarry worker laying down logs as a large marble block is dragged out of a horizontal mining gallery. (West Rutland, VT)