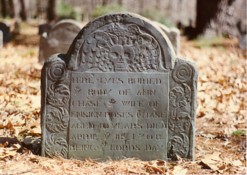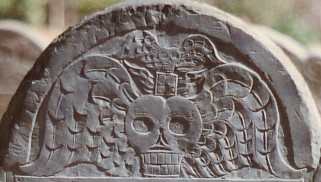 Ann Chase's Gravestone Close-up of Lunette design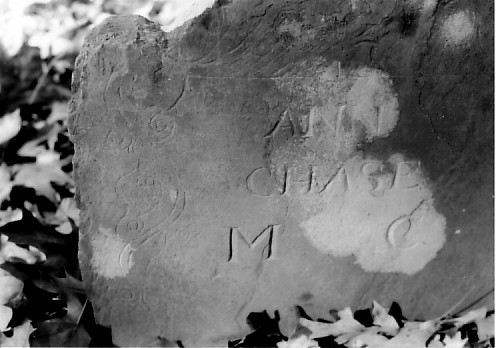 A close up photo of the detail on Ann Chase's footstone
Ann Chase
Ann's headstone is elaborate for either a man or woman. It has two death heads, one above the other, plus an hourglass with wings. Circular leaf patterns form a scroll-like design in each side border. This design has a fancy, lively, flare to it when compared to the formal, conservative fig and pumpkin design. An interesting note is the mention of the day she died, the Lord's Day (Sunday). Six above the word Lord stands for the sixth Sunday in the new year. The year at that time began sometime in March. Her gravestone lacks a bottom border placing its carving date ca 1708. This is an elite headstone, one of the tall versions in its time, and possibly the first gravestone in Sawyers Burying Ground. It was made to stand out and as a status symbol. We do not know Ann Chase but we do know she stood out for some reason.
Ann's footstone was carved by an apprentice with the same flare accorded her headstone. However, it was done extremely lightly as the person was an apprentice just learning the trade. Wings can be seen in the lunette but not a head. Side borders have a new design not seen before in gravestone art. A double unbroken set of lines scrolls from top to bottom. Along these lines are leaves filled with cross-hatching and small curled tendrils. A similar design was found in Rowley used as a bottom border. Rowley design has strawberries instead of leaves. Probably the same carver.(see Boston Gravestones) Various designs were tried from time to time. Some were accepted others were not accepted. Hartshorn borrowed this design. He altered it to his style and used the design successfully. On Boston stones it shows up only in these two cases.
Mary Sawyer's Gravestone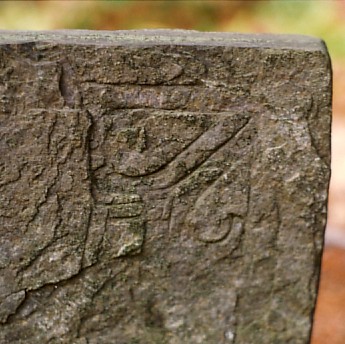 Close-up of Mary Sawyer's footstone: fleur-de-lis design
Mary Sawyer
Mary's gravestone set was carved by the rural gravestone carver, John Hartshorn. Her headstone has a mask-like face with segmented lines ending in birds heads above the face. In 1708, this was Mr. Hartshorn's newest lunette design. The side borders are extra fancy, with more curled lines inside the scrolling than usual. These designs end with hearts at the bottom terminus. Her headstone is a one-of-a-kind design.
Mary's footstone was the most prestigious one anyone, man or woman ever received. Her footstone is rectangular in shape with squared corners. In each top corner is a fleur-de-lis. The footstone was a small version of a six foot long slab gravestone for Colonel Pierce in First Parish Burying Ground in Newbury, MA. Mr. Hartshorn gave Mary, the first person from the Sawyer family to be buried in the burying ground named after her family, the ultimate status symbol. Not even Ann Chase's grand set of gravestones topped Mary Sawyer's footstone. In the burying ground a plot was set aside for the Sawyer family, unheard of in that time period. Mary's headstone faces away from the main section of the burying ground. Her footstone on the other hand faces the main section and was therefore the more favorable stone in the set to carve the fleur-de-lis on. It was the one stone that everyone viewed.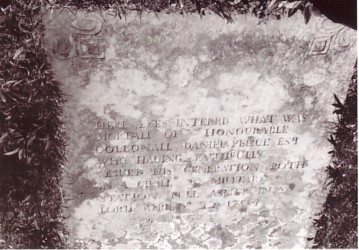 Colonel Pierce's six foot long slab gravestone in First Parish Burying Ground, Newbury, MA with fleur-de-lis in each top corner.
Mary Bailey's Gravestone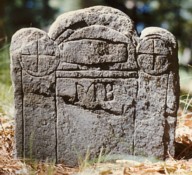 Mary Bailey's footstone is an example of Mr. Hartshorn's regular type. A miniature headstone shape with a coffin outline and simple finial designs.
Mary Bailey
Mary Bailey headstone was carved by John Hartshorn, also. It has the same lunette design as Mary Sawyer. Here the bird's heads show up better. Mary Bailey being a little less in social status Hartshorn carved a more common design in the side borders. It is interesting to note Hartshorn used the same new design on both women's headstones. In Rowley Hartshorn had given another woman a crown to make her headstone compliment her father-in-law's.(see Crowned Lady) Mary Bailey and Mary Sawyer gravestones were the second two stone markers to be erected in Sawyers Burying Ground. Hartshorn gave these women his best and most up to date art work. In doing so he competed with Ann Chase's grand gravestone.